Learn Spanish Online for Free
Can I learn Spanish for free?
We've all planned to take advantage of the immense amount of resources and learning opportunities that we see offered on the internet. We're lured in by their promise to be effective and, most importantly, free.
But is it possible to learn Spanish using free internet resources?
Free resources are often low in quality
Although there's a lot of interesting and useful information available online, you'll need quite a bit more than the free resources you find on the internet to learn Spanish, even if you're great at self-study.
Even though these resources can sometimes be helpful, learning a language is a complex process, and you need an expert to guide you through it.
If not, you may find yourself faced with a lot of information that is difficult to make sense of, meaning you'll end up feeling confused and overwhelmed. You'll lose time and, ironically, money too.
In addition, the results are rarely satisfactory, leading to feelings of frustration and the belief that "languages aren't for me".
Let's take a look at these free language learning resources.
Free resources are often:
Hard to follow.
Incomplete.
Disorganised.
Inaccurate or simply incorrect.
It's very difficult to understand certain expressions and nuances if you don't have a teacher and real-life opportunities to practise the language. According to Marc van Oostendorp, a linguist at the Meertens Institute, it's only possible to learn a language through interaction. So children who watch cartoons in other languages don't automatically become bilingual.
For example, there's a difference between "una mujer" and "una tía", "un cerdo" and "eres un cerdo", and between "eres un loco" and "un loco". Only when you understand these expressions and colloquial phrases (also known as language clichés) in depth will you be able to participate fully in a conversation.
A lot of bad practice occurs within this sector, and the internet is full of unqualified people, both native and non-native, who have a shallow and distorted understanding of language learning.

What about language learning apps?
There are a whole host of language learning apps designed to help you learn a foreign language.
Studying with an app is an attractive option because you can do something productive with the time you would otherwise waste.
What features do they have?
It's usually very easy to start studying. You choose the language you want to study and then either start from the beginning or take a test to be able to start at a higher level. These apps are very fun to use, and the latest language learning apps incorporate video game features, such as points, lights, leaderboards, levels and congratulatory cheers when you achieve something (e.g. completing a test).
Whatever your goals, there are many activities to choose from. An algorithm adapts your lessons to your progress, and the apps' content evolves constantly. Apps turn language learning into a fun game.
These apps use push notifications to remind you to use the app if you haven't in a while. This helps to make sure you practise daily, which is very important when learning a language.
What's more, leaderboards encourage healthy competition between friends. In summary, language learning apps help to build your confidence with the language by introducing you to some vocabulary and grammar concepts.
Buuuut
A well-designed language course teaches you vocabulary and grammar in a context that is relevant to you.
A language course designed for business professionals will have very different content from a language course designed for young learners.
Apps teach you vocabulary and some grammar but in total isolation from any context.
If you use an app to learn a language, you don't get a chance to use the language in the countries where it's spoken, nor do you get a chance to use it as a vehicular language to communicate with other non-native speakers. Therefore, you miss out on experiencing the necessary interaction that we talked about before.
When you do an immersion course abroad, the content will be adapted to your needs, and, most importantly, you'll use the language every day to carry out your daily activities.
If you've studied a language through an app, it's easy to get lost and confused when you try to use that language in its natural environment.
Regularly viewing media in the target language doesn't prepare you well enough to have a conversation. You need to learn how to listen, think, and formulate sentences all at the same time.
Learning with your mobile phone doesn't compare in the slightest to visiting another country, making friends, and enjoying the sounds and tastes of that country.
In fact, Luis von Ahn, founder of Duolingo, told The Guardian newspaper that their app is currently "nowhere near as adaptive as a human tutor who, by looking at your facial expression [sees] you are a little hesitant on something. They may bring [that] kind of human touch to it and we are not as good as that but I think we could be. It will take a really long time to get as good as a human tutor, to be honest."
Using a language learning app can be a great way to supplement your language classes when you're an absolute beginner, and it can help you to widen your vocabulary as you progress with the language.
Can I master a language using an app?
Nope.
Apps are a good extra, but they're no substitute for the experience of learning through an immersion programme.
By definition, apps are unsociable because the time you spend on your phone is not spent meeting people and using the language for what it was designed for: to communicate.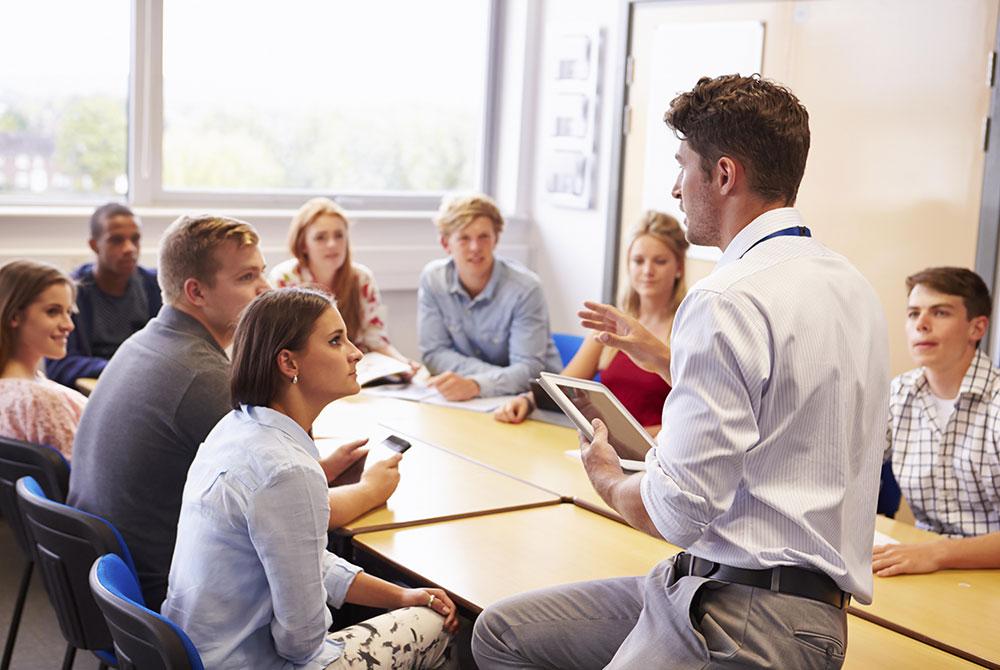 In summary
Effective language instruction is delivered by professionals. That is, qualified teachers who have devoted years to studying and training in order to develop their skills and methodology.
While you may think that internet resources are great, they're no substitute for studying and practising the language in real life.
To truly learn a language, you need a good teacher and methodology, as well as the opportunity to interact with people in various contexts.
Don't waste your time. Take advantage of the opportunities offered by language schools to learn Spanish in a structured way with proper instruction.
And, of course, use all the free resources and apps that you want, but make sure to ask your teacher which ones are the most suitable and effective.