Our In-Person Spanish Courses in Seville
We've got the right course for you!
In-person Spanish courses in Seville
Learn Spanish. It's awesome and it'll change your life.
Perhaps you're only in Spain to learn Spanish, or maybe attending a language school isn't your only reason to be here.
For this reason, we offer various in-person Spanish courses adapted to your needs.
Courses are straightforward and have the perfect number of hours per week so you can learn Spanish quickly, without feeling stressed.
After your placement test we will assign you to a class with other students who are the same level as you.
At Maus School, courses are divided by level according to the CEFR:
A – Beginner, B – Intermediate, C – Advanced,
recommended by the Instituto Cervantes.
At each level, we help you to improve all your language skills (speaking, comprehension, writing, grammar, conversation, etc) in a straightforward, varied, effective, current and practical way that encourages you to participate.
You've come to us because you want to learn. Rest assured, you'll learn a LOT!
Our semi-intensive and intensive courses also include the perfect accompaniment: three extra classes a week (conversation, grammar reviews, student queries, Spanish culture, etc.) on top of your main course, to make your learning experience more varied and engaging.
Our Intensive Course also includes preparation for the official DELE exam from the Instituto Cervantes (the most well-known institution for Spanish language in the world!)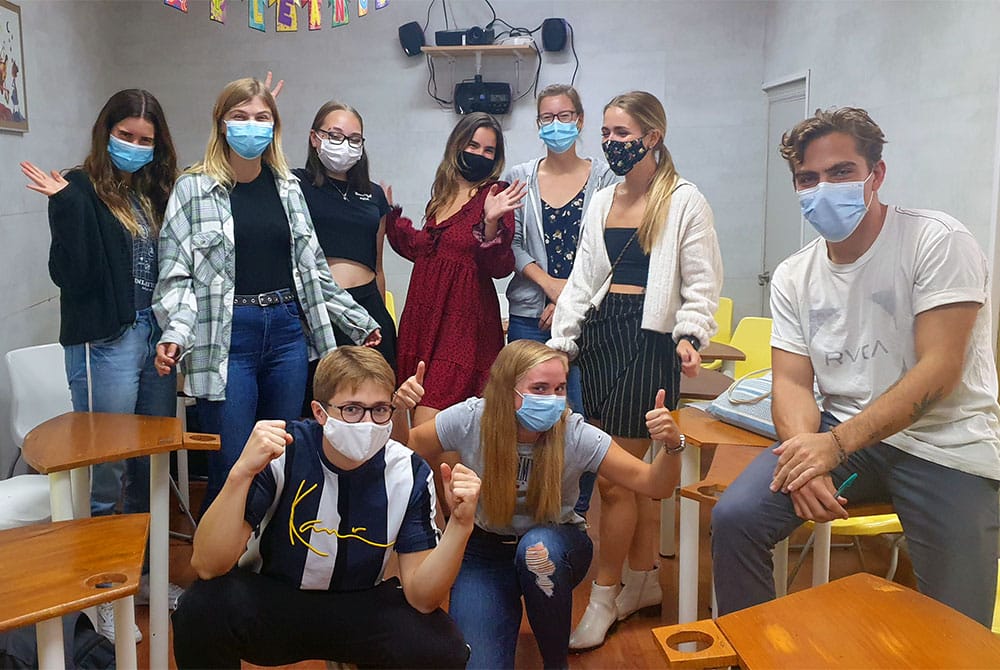 Our courses are EFFECTIVE, not stressful
You'll learn a lot with all of our in-person Spanish courses. Choose which course you take according to your wants and needs.
Don't hesitate to get in touch if you'd like some personalised advice from our teachers to help you to choose the right course for you 😊
With all of our courses, you'll have the opportunity to get involved with our Culture&Fun Programme. You're also welcome to use our café, which is free for our students.
With our C&F Programme of social and cultural activities, parties, and trips, your experience in Spain will be unforgettable.
And of course, you'll always receive the warmest personalised attention from our whole team.
At the end of your in-person Spanish course, you will get a certificate stating the numbers of hours studied and your level of Spanish according to the Common European Framework of Reference for Languages (CEFR).
We offer these options of in-person Spanish courses in Seville
Morning classes Monday to Friday.
Will you be in Seville for less than 3 months and do want to learn as much as possible? If so, our Intensive Course is for you!
This course is full-time and we recommend it if you need to get a student visa. You can learn about the process of obtaining a student visa HERE.
Intensive: 3 hours a day of classes + 3 additional hours every week + 2 hours a week of DELE exam preparation.
Semi-Intensive (10.5 h / week)
Morning classes Monday to Friday.
Will you be in Seville for more than 3 months? If so, we recommend our Semi-Intensive Course!
You'll learn a lot but in a more relaxed way.
Semi-Intensive: 1.5 hours a day of classes + 3 extra hours a week.
Afternoon classes two days a week (Monday & Wednesday or Tuesday & Thursday).
This course is perfect for interns and Erasmus students.
Diploma in Spanish as a Foreign Language (DELE) from the Instituto Cervantes.
Would you like to get the most well-recognised Spanish language diploma in the world, both academically and professionally? Well, here's a fact -> our students have a pass rate of 95% in this exam!
The teachers of this course are official DELE examiners qualified by the Instituto Cervantes.
This course is combinable with our intensive, semi-intensive and extensive courses. It usually consists of 12 hours of classes + 12 hours of self-study guided by the teachers.
If you're interested in this course, please ask us about availability 😊
Let's enjoy life together!!
Contact form
Please fill out this form if you need help choosing a course, or have any other questions.
We're here to help and we'll get in contact with you as soon as possible.
All fields must be completed.
I allow my personal data given in this form to be used by Maus School according to the terms described in the Privacy Policy of this website, which I have read and understood. I am aware of the rights that I can exercise on such personal data (access, rectification, opposition, deletion ("the right to be forgotten"), limitation of processing, portability).