Learn Spanish Easily in 2021 in Seville
A city where you can study and have fun
Seville is unique. It's the beating heart of Andalucía, and is known and admired throughout the world for its gastronomy, its people, its cultural heritage and its art. Over the years, this magical city has inspired many poets, painters and artists.
One of the most important places for flamenco, it attracts visitors with its history, energy and uniqueness. There are no downsides to studying Spanish in Seville!
Visit Seville
We recommend a stroll through its winding streets. Wander around the beautiful María Luisa Park, explore the Plaza España and visit the Torre de Oro
Lose yourself in the neighbourhood of Santa Cruz, a labyrinth of romantic, narrow streets lined with orange trees, restaurants and artisan shops. Or amble through the beautiful neighbourhood of Triana, famous for its old churches and ceramic factories.
These are some of the amazing pieces of architecture that you should visit:
Seville's Cathedral (La Catedral de Santa María de la Sede) is the third-largest in the world following St. Peter's Basilica in Vatican City and St. Paul's Cathedral in London.
It is an incredible blend of Arab, Renaissance, Baroque and neoclassical architecture.
This 98-metre high bell tower is an old Muslim minaret, from a time when Seville was an Arab city called Isbilia (8th century) and had one of the most advanced cultures of its time.
Instead of stairs leading to the bell tower, there are small ramps that were used by people to ascend the bell tower on horseback.
The current bell tower was added as a symbol of the city's conquest by Christian troops under the orders of Fernando III de Castilla, which took place between August 1247 and 23rd November 1248.
Near the Cathedral is a magnificent royal palace. This building is visited by tourists from all over the world and serves as a residence for royals who visit the city.
Built in 913 by Andalucía's first Muslim prince Abd al-Rahman III, it was initially an Arabic palace. .
Following the Christian Reconquista, it was turned into a royal palace that elegantly combines art from different cultures such as Arab and Renaissance.
The Plaza de España was the main building constructed for the Ibero-American Exposition of 1929.
It can be found in María Luisa Park.
Its Neo-Mudéjar design (a type of Moorish Revival architecture) combines Art Deco elements. This large landmark comprises a long line of connected buildings in the shape of a semicircle, which surrounds a large square with a fountain in the centre.
It has been used as a filming location for several famous films such as Star Wars.
Fall in love with Seville
Seville is without a doubt one of the prettiest cities in the world. Its history, architecture, people and stunning beauty are extremely special.
Learning Spanish in Seville is one of the best ways to combine studying with a holiday.
Every walk around Seville is different and every day you will discover something new.
For the most part, people of Seville only speak Spanish. They are friendly and polite, and once they become your friend, they will do their best to make you feel comfortable in their company.
If you want to experience the real Seville, it is worth knowing at least a little Spanish. We call each other "miarma", which means "mi alma" ("my soul").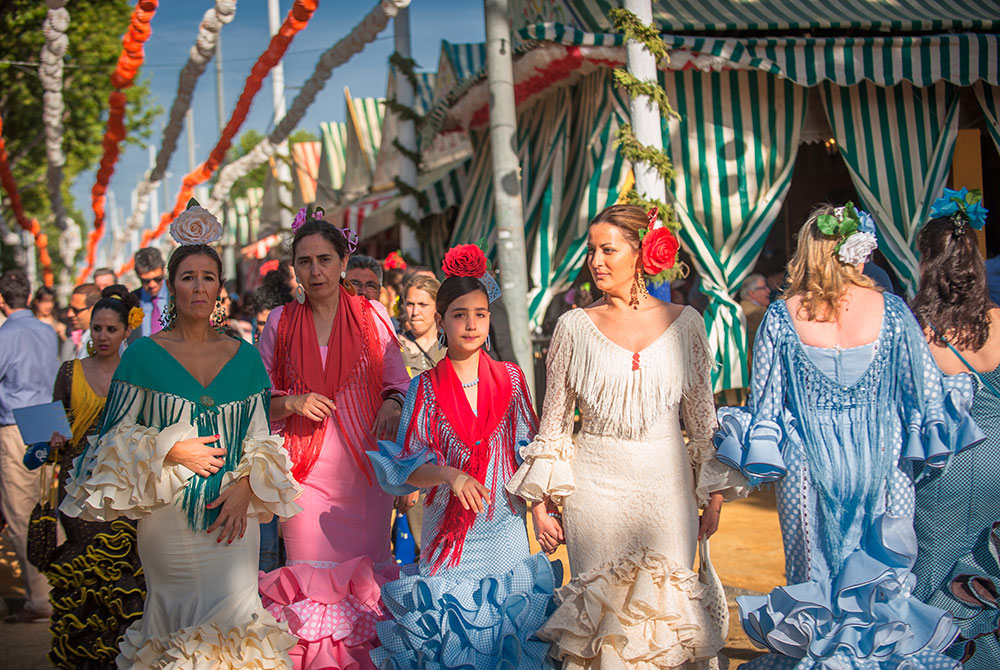 Art and culture are prominent in Seville. There are no big museums, but the whole city is effectively one huge museum.
Furthermore, the large number of churches means that religious celebrations throughout the year are guaranteed. As well as Easter Holy Week, the famous Feria de Abril is a fun and colourful event that lasts a whole week.
Everyone participates in these events, helping to create an incredible atmosphere.
There is nothing like lying in the sun by the river in Triana, or watching a flamenco show at the Museo del Baile Flamenco (please choose the flamenco venue carefully and don't go to the first place you are invited).
The problem with Seville is that there are more interesting places here than there are days in an average person's life.
We recommend that you walk around and explore the city thoroughly. You will soon find your favourite places with a lively and cheerful atmosphere where you can relax and enjoy the sun and mild climate almost all year round (summer is very hot). No doubt you will end up falling in love with the city.
All this will make learning Spanish in Seville a truly fantastic experience.
Student life in Seville
Studying Spanish in Seville is very easy as there are many language schools with high-quality courses and programmes.
We recommend ours, Maus School, because teaching Spanish is our life's work and this is reflected in the quality of our courses and the satisfaction of our students.
In terms of entertainment, there are things going on in Seville every day and the student community is massive, meaning that fun is guaranteed.
You will find music, theatre performances, film screenings, partying until the early hours and sporting events happening constantly. Don't worry, you'll have plenty of opportunities to make friends!
How much does it cost to live in Seville? Well, that mostly depends on how you budget your money, but compared with the rest of western Europe, Seville is an inexpensive city.
It's not difficult to find accommodation, either a shared room, a student residence, an apartment, or lodging with a family.
Prices are affordable and there is plenty of good quality accommodation available. Like anywhere, you may need time to find something to your liking, but you will find it in the end.
Seville's public transport system is very efficient. There are buses and a metro, as well as bicycles and electric scooters for rent. Rental cars are available at reasonable prices.
Furthermore, Seville is well-connected by train and plane to many Spanish cities and the rest of the world. Andalucía's beaches are only an hour away and you'll find several stunning natural parks nearby.
Get a taste of Seville
Andalusian cuisine is delicious and there are flavours and styles for all tastes, from fried fish to tasty meats, and from fresh vegetables from the nearby countryside to exquisite fruits.
You can pair typical dishes such as Andalusian Gazpacho or fried fish with delicious wines from prestigious Andalusian wineries, such as those in Jerez de la Frontera, a city close to Seville.
There are great restaurants with a several star rating, but we recommend that you visit the small restaurants and bars serving home-made food where you can savour traditional Sevillian cuisine. For a guaranteed delicious meal of high quality, flavourful food try el Bar Bugarin in the neighbourhood of Los Remedios, or Los Coloniales.
For a more sophisticated establishment, we recommend Baco and El Espigón.
If you don't feel like cooking at home, or perhaps you want a taste of the real Seville but want to save some money, try Speed Pollo. Many people who live in the city centre buy their food there. After all, learning Spanish in Seville involves learning about its cuisine and its tradition.
The other great restaurants and bars you will have to discover for yourself.
One last piece of advice
Go with an open mind and enjoy yourself. Seville has a lot of interesting and beautiful things you'll want to see. Now you know how learning Spanish in Seville can be your next adventure!