Useful Spanish Phrases for 6 Flying Situations
Spanish phrases to help you at the airport and during your flight
Are you travelling to Spain or a Spanish-speaking country?
The first place where you'll get to practise your Spanish is the plane.
Travelling abroad is a great opportunity to learn phrases in Spanish and practise speaking.
Even if you can't speak fluently yet, you can have a short conversation if you know some greetings and how to ask and respond to simple questions.
This will make your journey more enjoyable and rewarding.
Having a conversation with the flight crew is a good place to start.
With that in mind, let's take a look at some examples of various scenarios that could occur during your journey.

Phrases to help you with 6 different flying situations
1. Spanish phrases for booking a plane ticket
Azafata: Buenos días, ¿En qué puedo ayudarle? (Flight Attendant: Good morning. How can I help you?)
Pasajero: Quisiera reservar un ticket para Madrid, por favor. (Passenger: I would like to book a ticket to Madrid, please.)
2. Spanish phrases for checking in and boarding
Azafata: ¡ Buenos días! Me permite ver su billete, por favor?. Permítame su tarjeta de embarque. ¿Cuál es su destino? (Flight Attendant: Good morning! Can I see your ticket, please? Let me have your boarding pass, please. Where are you flying to?)
Pasajero: Sí, claro, aquí la tiene. Mi destino es Madrid. (Passenger: Yes, of course. Here it is. I'm going to Madrid.)
Azafata: ¿Va a facturar alguna maleta? (Flight Attendant: Have you got any baggage to check in?)
Pasajero: Sí. (Passenger: Yes.)
Azafata: Disculpe, su maleta tiene un sobrepeso de dos kilos. (Flight Attendant: I'm sorry, your bag is 2 kg overweight.)
Pasajero: Lo siento, permítame sacar algunas cosas, por favor. (Passenger: I'm sorry. Let me take a few things out, please.)
Azafata: Por supuesto, le espero. Muy bien. Siga por ese pasillo, por favor. Muchas gracias y buen viaje. (Flight Attendant: Of course, take your time. OK. Continue down the corridor, please. Thank you and have a good trip.)
Additional phrases:
¿Está usted al tanto de la normativa sobre líquidos en su equipaje? (Are you aware of the regulations on liquids in hand luggage?)
Por favor, deposite su equipaje en la cinta transportadora. (Please place your luggage on the conveyor belt.)
Por favor, coloque sus dispositivos electrónicos, como portátiles, móviles o tablets fuera de su equipaje. (Please take electrical items, such as laptops, mobile phones and tablets out of your luggage.)
Disculpe, su equipaje es demasiado pesado. Deberá facturarlo. (Excuse me, your luggage is too heavy. You'll have to check it in.)
3. Spanish phrases for storing hand luggage on the plane
Pasajero: Perdone, el portaequipajes está demasiado alto para mí y no llego.¿Podría ayudarme, por favor? (Excuse me, I can't reach the overhead locker. Could you help me, please?) // Lo siento, los estantes son demasiado altos para guardar mi equipaje. ¿Me puede ayudar? (I'm sorry, the lockers are too high up for me to put away my luggage. Could you help me?)
Azafata: Por supuesto. Mire, en este compartimento ya no queda sitio, así que lo colocaremos en el de al lado. ¿Solo lleva esta bolsa? ¿Necesita algo más? (Flight Attendant: Of course. Let's see, there's no space in this compartment, so we'll put it in the next one along. Is this your only bag? Do you need anything else?)
Pasajero: Solo llevo esta bolsa (o maletín o mochila). Muchas gracias. (I've only got this bag (or suitcase or backpack) with me. Thanks very much).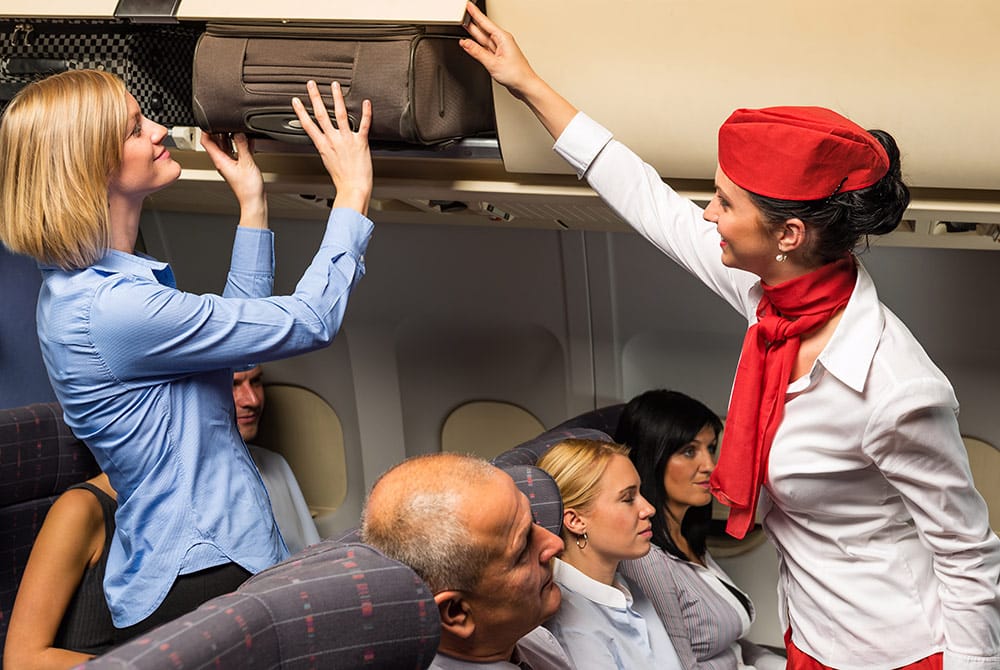 4. Spanish phrases for ordering food during the flight
Azafata: ¿Qué desea beber? ¿Le gustaría algo de beber? (Flight Attendant: What would you like to drink? Would you like anything to drink?)
Pasajero: ¿Tienen zumos? ¿De qué es el zumo? (Passenger: Have you got any fruit juice? What type of fruit juice is it?)
Azafata: Tenemos zumos de naranja, de manzana y de tomate. (Flight Attendant: We've got orange, apple, or tomato juice.)
Pasajero: Un zumo de manzana, por favor. (Passenger: An apple juice, please.)
Azafata: ¿ ¿Qué prefiere comer, ternera o pollo? (Flight Attendant: What would you prefer to eat? Beef or chicken?)
Pasajero: Ternera, por favor. Prefiero la carne, gracias. (Passenger: Beef, please. I prefer meat, thank you).
More phrases:
¿Puedo ir al baño ahora? (Can I use the bathroom?)
¿Me podría traer un poco de agua, por favor? (Could you bring me some water, please?)
Aún no he terminado, disculpe. (I haven't finished yet, sorry.)
¿Podría traerme una manta? (Could you bring me a blanket, please?)
¿Me puede indicar cómo reclinar mi asiento? (Could you show me how to recline my seat?)
¿Me permite salir, por favor? (Could you let me out, please?)
5. Spanish phrases for landing and airport arrival
Anuncio: En unos minutos aterrizaremos en el aeropuerto de Madrid-Barajas. // Les informamos señores pasajeros que el aterrizaje será en breves minutos. (Announcement: In a few minutes, we'll be landing in Madrid-Barajas Airport. We inform you that we'll be landing in a few minutes.)
Por favor, abróchense el cinturón de seguridad, y pongan el respaldo de su asiento y su mesilla en posición vertical. (Please fasten your seatbelt, put your seat in the upright position, and put your tray table in a vertical position.)
Azafata: Perdone, hay que subir la persiana para aterrizar. (Flight Attendant: Excuse me, you must open the blind for landing.)
Additional phrases:
¿Tiene usted algo que declarar? (Do you have anything to declare?)
Estoy aquí como turista. (I'm here as a tourist.)
Me quedaré aquí una semana. (I'm staying here for a week.)
¿Dónde está el mostrador para el transbordo? (Where is the transfer information desk?)
No encuentro mi equipaje, mi maleta, mi bolso. (I can't find my luggage, my suitcase, my bag.)
Aquí tiene mi ticket de facturación. (Here's my check-in confirmation.)
Todos los pasajeros procedentes de Nueva York pueden recoger su equipaje en la cinta número 7. (All passengers arriving from New York can collect their luggage from belt number 7.)
Tendrá que hacer transbordo en Lisboa. (You'll have to change in Lisbon)
6. Spanish vocabulary related to flying
Aduana. (Customs)
Aterrizaje. (Landing)
Auriculares. (Earphones)
Azafata / azafato. (Flight Attendant)
Billete de avión. (Plane ticket)
Billete de ida. (Outbound ticket)
Billete de vuelta. (Return ticket)
Cinta transportadora de equipaje. (Luggage conveyor belt)
Cinturón de seguridad. (Seat belt)
Despegue. (Takeoff)
Declarar objetos. (Things to declare)
Embarcar. (To board)
Equipaje de mano. (Hand luggage)
Facturar, registrarse. (To check in)
Hora límite para embarcar. (Gate closing time)
Inspección de pasaporte. (Passport control)
Hacer transbordo. (To change/transfer)
Líquidos. (Liquids)
Llegadas. (Arrivals)
Maleta. (Suitcase)
Mesa / mesilla. (Tray table)
Monitor. (Screen)
Mostrador de facturación. (Check-in desk)
Nada que declarar. (Nothing to declare)
Número de asiento. (Seat number)
Número de vuelo. (Flight number)
Objetos electrónicos, portátiles, tabletas. (Electronic items, laptops, tablets)
Pasaje. (Ticket)
Pasajero. (Passenger)
Pasaporte. (Passport)
Primera clase, clase turista. (First class, Economy class)
Pronto. (Soon)
Puerta de embarque. (Boarding gate)
Recogida de equipaje. (Baggage collection)
Registrarse. (To check in)
Salida de emergencia. (Emergency exit)
Salidas (área de salidas de vuelos). (Departures)
Tarde. (Late)
Tarjeta de embarque. (Boarding pass)
Tienda libre de impuestos. (Duty-free shop)
Tripulación. (Flight crew)
Ventana. (Window)
Vuelo de larga duración sin escalas. (Long-haul flight)
Vuelo en hora. (Flight tracker)
Vuelo retrasado. (Delayed flight)
Zona de embarque. (Waiting area)
Conclusion
As you can see, practising Spanish during your flight to Spain is easy.
And don't worry, the majority of the words and phrases will be the same no matter where you go.
The plane is a great place to try a short and simple conversation in Spanish!
Dive straight in on your first trip and try to communicate with a few simple Spanish phrases.
Before you fly, you could also prepare for other possible situations that may occur during your flight.